Emily is a warm, sincere and professional artist. One gets the sense that her work is an extension of herself, a physical example of the time and thought she has reserved for each individual. I believe, a true keepsake is created when these elements are brought into one of her lovely pieces

Stacia Power- Kingston, Ontario
Emily is fiercely creative and hardworking, warm and professional, and an absolute master of her craft. Her work is truly incredible, from the high-quality materials she sources, to her impeccable craftsmanship, to the unique and stunning designs she creates. I adore my stacking rings she custom made for me, and I get so many compliments on them! I highly recommend Emily to anyone who wants jewelry that is not only gorgeous and made with passion, but also expertly crafted to last generations.

Alanah Waugh
I was very happy with the engagement ring Emily made for us. She was able to work with us to create the ring we wanted and used great judgement in helping us design it. It's perfect and I love it, thank you!

Jessica Oman
Highly recommend Emily Wonja if you have any jewelry repairs, OR if your looking for any custom jewelry OR just looking for the perfect pair of earings, a beautiful necklace or a stunning ring. Check out her work she's a very talented lady and takes pride in her work.

No more missing diamond and you cant even tell were the repair was.And it only took a week for the repair which i was shocked to get it back so soon!Im happy to have my ring back and my finger no longer looks naked

THANKS EMILY

Robyn Lindsay
In 2015, I commissioned Emily to create a unique Christmas gift for my husband - an ornament/replica of his favourite lap steel guitar. While not something that she would normally craft, Emily took exceptional care to ensure that the outcome was an extraordinary piece of art. It was her enthusiasm for the project that really appealed to me. She was willing, for example, to come on two occasions to see and photograph the actual guitar, to ensure authenticity. She truly seemed to enjoy creating the piece. The result of her efforts was not only unique; it was a beautiful and detailed replica that my husband now proudly displays on his desk. Emily's skill, attention to detail and customer service made for an incredible experience.

Gertie Witte - Kingston, Ontario
Amazing I have always wanted a family ring but wasn't able to find one because you need 3 stones em was amazing and made me a ring that was perfect a family ring and infinity ring all in one! Will definitely be coming back for any future jewelry needs!

Stephanie Buck
Emily has crafted some incredible pieces for me. I highly recommend her as her workmanship is precise and well crafted. Her dedication and passion is clearly displayed in every piece she makes. I cannot wait to get her to create more wonderful pieces for me!

Megan Nolan- Kingston, Ontario
"Emily is clearly a very talented and creative goldsmith.

She designed and crafted a beautiful family ring for my wife.

It was a busy time of year and she still fit me into her schedule.

My wife and I could not have been happier with the final piece".

Harold Hawthorne – Brockville, Ontario
Award Winning Designs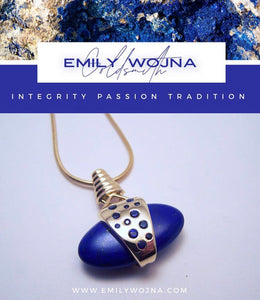 When designing a custom piece of jewellery for clients a rendering of various design options will be presented along with an estimate of cost and time to create the custom piece. Every piece we create uses different techniques and materials and vary in price. We are able to source Canadian diamonds, coloured diamonds and custom cut gem stones of all kinds.

Wojna uses only the highest of quality materials and gemstones, able to source rare pearls and unique custom cut gem stones. We pride ourselves on our integrity in the work produce and guarantee the longevity and timeless design of each piece created.
custom
It's an experience where you collaborate with Emily to create your unique customized piece of jewellery.
Each order is designed and hand crafted with great care, from first sketches to the final product.​
All custom work is handmade from scratch in our studio north of Kingston.​
We can source Canadian Diamonds, unique cut and rare gem stones and pearls.​
Once the design is agreed upon please allow 6-8 weeks to create the piece from scratch.
All prices are available upon request and will vary based on each unique piece.
If you have a specific deadline contact us emilywojna@hotmail.com, we'd love to work with you.